The former WISM-FM became Magic 98 WMGN on December 1st, 1983. WISM-AM had been Madison's most popular radio station for decades.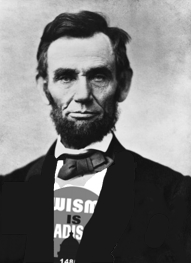 Pictured above is the earliest-known photo of a WISM T-shirt.

WISM has a special place in Madison radio history, with well-known personalities like Clyde Coffee, Charlie Simon, Jonathan W. Little, Stoney Wallace, Neil Gavin, and Robin Steele.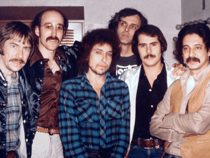 Pictured above: Bob Dylan visits Madison. At left is WISM's Jonathan W. Little and Charlie Simon. At far right is Mayor Paul Soglin.
In the 1960s and early 70s, most FM stations across America had few listeners. Most people did not have FM car radios. The majority of FM stations offered "easy listening" or rock music. In the late 1970s Mid-West Family Broadcasting created a popular "adult contemporary" approach for WISM-FM, and the station (automated, meaning no announcers) began attracting listeners that liked the music on Movin' Easy 98 FM. In 1983 Mid-West Family decided that the station could be even more successful if it became involved in community events, offered fun promotions and was staffed by live personalities.
The first Magic 98 airstaff was:
Pat O'Neill 6-10AM
Jim Reed 10am-2PM
Vic Martin 2-6PM
Johnny Marks 6-11P
Our first events included "Magic Nights" at area restaurants and a weekly "Take Your Radio To Work Day" that offered listeners a $98 prize. "Magic Money" was introduced in 1984. The first Magic van appeared in countless parades. A "Lunch with the Elephants" contest to celebrate a circus appearance drew a crowd to Ella's Deli in the summer of 1984. Some of the Magic 98 personalities who joined the station in the 1980s are still here today, including Sara Freeman and Kathryn Vaughn.