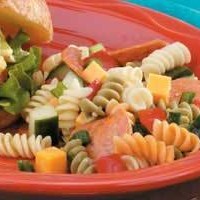 This is one of my family's favorites. It's an easy, excellent side-dish during grill-out season compliments of Taste of Home!
Ingredients:
2 cups uncooked tricolor spiral pasta
1 cup cubed cheddar cheese
1 cup coarsely chopped cucumber
1 small tomato, chopped
2 green onions, chopped
28 pepperoni slices
1/2 cup zesty Italian salad dressing
Preparation:
Cook pasta according to package directions; drain and rinse in cold water. In a large bowl, combine the pasta, cheese, cucumber, tomato, onions and pepperoni. Add salad dressing and toss to coat. Cover and refrigerate until serving. Yield: 4-6 servings.