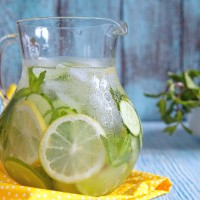 I've been bringing in cucumbers for my co-workers. LOTS of cucumbers. One plant will give you more than you can ever eat. And since my co-workers can only eat so many, I wanted to find different ways to use them instead of just slicing them and putting them in a salad. I've made my grandmother's cucumber salad a couple of times already. You know….the recipe with sour cream, vinegar, sugar, and dill. It's one of my favorites, but a person can get tired of eating that too.
So, I thought I'd look up recipes for spa water. I found this great link and tried a couple of these recipes over the weekend. I made a gallon of cucumber melon water and a gallon of cucumber, lemon, and mint water. Both are superb. It's a great way to use things from the garden in a different way and to make yourself drink more water. I drank the whole gallon of cucumber, lemon, and mint water in less than 24 hours.
It may be a placebo effect but I feel better for it.