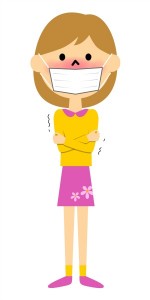 I am a self proclaimed germophobe with the stuff to prove it. I have an arsenal of surgical masks, surgical gloves, disinfectant wipes, spray, and hand sanitizer in my desk drawer. And since all kinds of illnesses have been spreading around the office, I have been not afraid to employ any of these items to make sure my workspace is clean and free of bad germs.
But this past weekend I let my guard down. I was out to brunch and out shopping without once pulling any hand sanitizer out of my purse. What was I thinking? Monday I woke up with a cold.
I've had worse. But I'd rather not have one at all. Yes, I am freakish about cleaning surfaces where germs can live. People do make fun of me [editor's note: no we don't. Well, maybe a little.], but I don't care.  Getting lots of rest and eating right is key to not getting sick, but I will forever swear by taking extra measures to wash my hands and keep my work surfaces clean as well. I know this cold will be gone in no time.