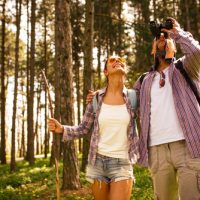 It's that time of year when the birds start singing again, and migrating. Just this week I spied some canvasback ducks and ring-neck ducks making a stop-over on their way to Canada for the summer.
Bird watching is my big hobby. Some people collect stamps. I collect bird sightings to add to my life list. Every year my list grows bigger, especially during migration months. To me, there is just something so fascinating and peaceful about watching birds. And I know many Magic 98 listeners feel the same.
You can learn to identify bird sounds when taking a walk in the woods, and to recognize birds in flight or on the water based on their shape, size and coloring. Start with these two websites: the Madison Audubon Society or the Cornell University Lab of Ornithology. These are two of my favorite sites for identifying birds, their habitats, their migration patterns, their sounds, and their colors. The Cornell site also has a link for you to participate in a bird count in your own backyard. That might be an excellent place to start your own bird life list. If you love nature and feeding the birds, keeping track of what you see might become your new passion.
I'm always interested in hearing about what others have seen and where. Please feel free to email me with a list of birds you have seen on a hike or in your own backyard. Happy birding.