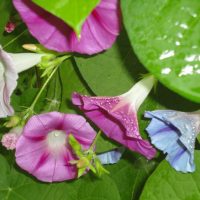 Flower season is here and I couldn't be happier. The past few years I have started morning glories from seed. Some of last year's are pictured here. This year's seedlings look to be the best yet, and I just transplanted them outside this week. Already they seem healthy and growing and happy to be in the ground.
The first year I tried planting morning glories, I bought a packet of seeds that were supposed to produce bright red flowers.  When they bloomed, they were magenta and not bright red. That was fine since I was happy that they grew and bloomed at all. Last year I decided to get the variety pack of seeds, giving me all different colors. They were absolutely beautiful, with hot pinks and light pinks, whites, deep purples, and blues.
It takes a couple of months from planting for morning glories to bloom, so I won't see the results until late July or August. But based on how these plants are looking right now, it looks promising for a rainbow of results this year. The hummingbirds will be so happy.  Me too.
Here are two more photos of last year's blooms.