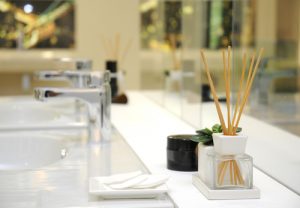 I'm not ashamed to admit that I'm kind of a girly girl. I like pretty, shiny things. I like things that smell luxurious, and I appreciate the soft textures and scents of lotions and soaps. There's something to be said for aromatherapy and surrounding yourself with soft textiles, like fuzzy blankets and socks and pajamas. If you give me a candle, no matter how beautiful, I'm burning that thing. I love it all. It's a necessary treat that we don't often take the time to give ourselves. That's why I always ask for these types of things for my birthday or Christmas.
So, this past Christmas I was showered with all kinds of girly-girl gifts from my family. My sister-in-law gave me Vanilla in the Snow body butter and body wash. I can't stop using it. I brought the body butter into work. The texture and scent just make me happy, so I'm always opening it up and applying little dabs throughout the day. My mom gave me eight luxury soap bars, all different colors and scents and sizes and textures. One of my favorites was the Christmas Wreath soap bar. I never wanted to get out of the shower when I was using it. It's all used up now, and I'm on to the next luxurious scent.
I also received scented oils that you place in a jar with those diffuser sticks. Yep. Those are in a couple of rooms in my house. And the rooms that don't have scented oils have the candles I got for Christmas, and they are burning. champagne cocktail, apple pie, Christmas clove. They just all feel (and smell) like a nice warm hug. After a long day at work and an evening full of dishes and laundry and vacuuming, those candles transport me to a nice vacation memory, or at least relax me and help me to get to sleep.
If you feel stressed or anxious or depressed, give yourself a little gift of a candle or scented oils or a luxury bar of soap that you find in a little specialty shop. You might find that one little gift to yourself can really brighten your day. It's a nice way to stop and smell the roses in the middle of winter.