Last week, Magic 98, along with our whole Mid-West Family Broadcasting family had a chili cook-off. For me, the results were a huge improvement from last year when I came in 17th place (or something just as terrible). My "White Chicken Chili" won second place! I am so excited to share this recipe with you because it's delicious, nutritious, and now… award-winning! (Can you tell I'm taking these bragging rights seriously?) For the cook-off, I tripled the recipe below.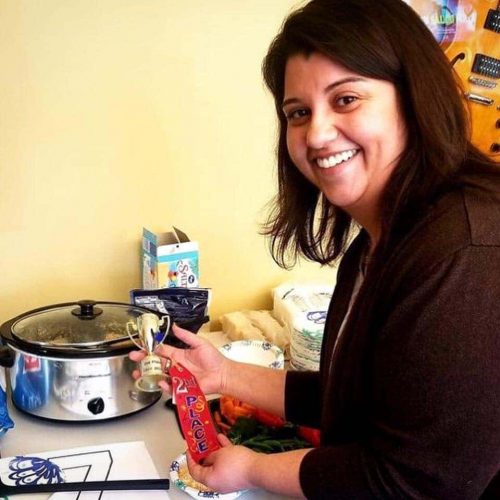 Jillene's Award-Winning Keto-Friendly White Chicken Chili
You'll need:
1 lb chicken
1.5 cups chicken broth
2 garlic gloves, finely minced
1 4.5 oz can chopped green chiles
1 diced jalapeno
1 diced green pepper (when I tripled the recipe, I used 1 green pepper, 1 red pepper, and 1 yellow pepper)
1 diced onion
4 tbsp butter
1/4 cup heavy whipping cream
4 oz cream cheese
2 tsp cumin
1 tsp oregano
1/4 tsp cayenne (optional)
Salt and pepper to taste
In large pot, season chicken with cumin, oregano, cayenne, salt and pepper
Sear both sides over medium heat until golden
Add broth to pot, cover and cook chicken for 15-20 minutes or until fully cooked
While chicken is cooking, melt butter in medium skillet
Add chiles, diced jalapeno, pepper, and onion to skillet and saute until veggies soften
Add minced garlic to veggies and saute additional 30-60 seconds then turn off heat, set aside
Once chicken is fully cooked, shred with fork and add back into broth
Add sauteed veggies to pot with chicken and broth and simmer for 10 minutes
Soften cream cheese in microwave until you can stir it (about 20 seconds)
Mix cream cheese with heavy whipping cream
Stirring quickly, add mixture into pot with chicken and veggies
Simmer additional 15 minutes
Serve with favorite toppings like pepper jack cheese, cilantro, bacon, sour cream
Enjoy!
For more recipes from the Magic Crew, click here.
Hear Jillene Khan weekday afternoons from 3-7. To read more of her blogs, click here.