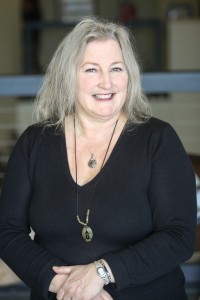 I grew up in:  West New York, NJ & Bergenfield, NJ
I went into radio because:  I wanted to write for a living and I thought it would be so cool to have fun doing it!
My first radio job was:  WSUP at UW-Platteville
Best way to relax:  Good book and a cup of hot Irish tea with milk and organic sugar.
If I had more time: I'd have more dinner parties.
Favorite childhood memories:  Walking in and around the streams to watch the sunbeams filter through the trees, looking for frogs.  Listening to records under my parents' bed.  Playing dollhouse with Aunt Lisa.  Family picnics at the lake.  Camping at the Jersey shore.
Guilty pleasure:  Cooked vanilla pudding with cold cream on top!
Secret wish:  Own a mansion on the lake in Fish Creek, Door County.
Favorite holiday:  Thanksgiving.  Great food with great company and if you do it right, the preparation and clean up are as much fun as the meal with the gang.
If I could bring something back to Madison:  Ovens of Brittany restaurant.
Hobbies:  Split myself between coming up with new baking recipes and growing flowers.
---

My framer and great friend, Donna Heideman, and friend, pastel painter, Sally Hall, and I used to take the ride out to Paoli to visit the 'Artisan Art Gallery' often. Fantastic art and a great little restaurant