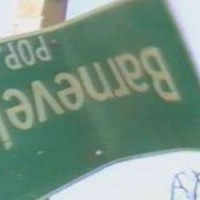 This weekend is a significant anniversary in Madison-area history: On June 8, 1984, shortly before 1:00 on that Friday morning, an F5 tornado, the strongest there is, struck Barneveld. Ninety percent of the village was destroyed and nine people died. Other communities in southern Wisconsin were also hit within a span of about two hours early that morning: DeForest, Arlington, Columbus, Beaver Dam, Markesan, and Belmont. Ann and I were living in Illinois at the time, but we vividly remember watching TV reports about the storm's aftermath. It was hard for us to get our brains around the idea that something so terrible could happen in a place so close to what we considered home.
(Local TV stations and newspapers will probably be carrying stories on the Barneveld tornado this weekend. You can read the story NBC15 did for the 25th anniversary in 2009 right here.)
Despite the terrible storm, regular daily life went on in the Madison area and elsewhere on that June weekend. If you felt like going to the movies, you could choose between two brand-new ones just out that Friday, Ghostbusters and Gremlins. Both were trying to dethrone the current box-office champs, Indiana Jones and the Temple of Doom and Star Trek III: The Search for Spock. Just as the NBA Finals are going on now, they were going on 30 years ago this weekend. In a memorable game at the Boston Garden on the night of June 8, the Celtics beat the Los Angeles Lakers 121 to 103. Boston was suffering through a heatwave, and there was no air conditioning in the old Garden. As a result, the courtside temperature at gametime was 98 degrees.
And if you turned on the radio, the top songs on that weekend 30 years ago included Cyndi Lauper's "Time After Time," "Let's Hear It for the Boy" by Deniece Williams, Bruce Springsteen's "Dancing in the Dark," and "The Longest Time" by Billy Joel. On June 8, 1984, Billy performed the song at Wembley Stadium in London. His performance is right here.
Back there in 1984, we could barely imagine 2014, and now here we are. In some ways, it seems like a million years ago, but in many others, it's practically yesterday.