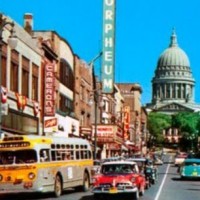 I hope you saw the article in Isthmus recently about the great Lost Madison Facebook community–and that you've checked out Lost Madison yourself. It's full of pictures and memories of Madison the way it used to be, and an excellent source of information about the city's past.
In the summer, I find myself thinking about Madison as it used to be, because when I was a kid, I spent more time here in the summer than in any other season. My aunt and uncle lived here, first on Segoe Road and later just off Whitney Way, and I'd spend a few days each summer with my cousin. He was pretty good at navigating the bus system, so we'd ride all over the city. We loved to hang out on State Street, and we spent a lot of time at Hilldale. They had 10-cent movies at Hilldale back then, and my cousin and I agreed that Santa Claus Conquers the Martians was overpriced at a dime. We liked Jaws much better–in the summer of 1975 we stood in line outside what is now the Bartell Theater, but was then the Esquire, to see the movie absolutely everybody was talking about.
Long before that, however, I was a visitor to Madison. After West Towne opened in 1970, my family would pile in the car on a Sunday afternoon, drive up from Monroe, and wander the mall. Over the years, I spent a large percentage of my allowance at Victor Music, and it's still the place I see in my head when I imagine what a music store is supposed to look like. In those days, the mall was on the very edge of the city. There were farms to the west and the south. Not long ago, I was traveling down Fish Hatchery Road in Fitchburg and the same thought occurred to me–I could remember when this was somebody's cornfield.
There are more interesting memories of Madison's past at Lost Madison. You should click over there right now.