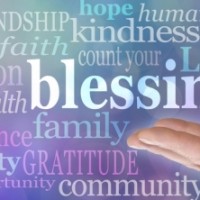 My favorite Christmas movie of all time is White Christmas. Call me corny but I love everything about it. The era, the clothes, Vera Ellen's dancing, Rosemary Clooney's singing, Bing and Danny. Sigh. It's just dreamy.
There is a song in that movie called "Count Your Blessings". Irving Berlin wrote it. I wonder if he knew what a wake-up call that song would be for many. While I don't fall asleep counting my blessings, I do make it a habit to count them before I get out of the bed every morning. I started with just one blessing, saying I was thankful for a roof over my head. Then I started thinking of more things like how thankful I am to have my dog, Truman, instead of grumbling that I have to go walk him in sub zero temperatures. I now start my day listing 10 things I'm thankful for. Sometimes they change, sometimes they are the same.
Just thinking or saying blessings out loud change your mood. Some people call it an attitude of gratitude. So, when you're worried and you can't sleep, just count your blessings instead of sheep and you'll fall asleep (or wake up) counting your blessings. If you are struggling to find peace and happiness this holiday season, just say out loud one thing that you are grateful for. I think you'll be amazed at how much better you'll feel in that instant and how it gives you strength.