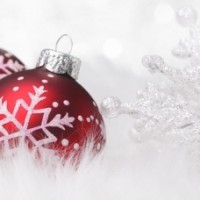 The year was 1997. I was out of radio, working for a publishing company. My wife, who had spent the last several years managing a retail store, was working for an insurance company. For many years before, Christmas Eve had been a regular working day for both of us. I would almost always be on the air on Christmas Eve; as a retail manager, she had to stay until the store closed, plus a couple of additional hours to get ready for the after-Christmas sale on the 26th. (When did you think the stores set up for the after-Christmas sale?) It was not unusual for it to be 8:00 or later until both of us were home. Sometimes, we'd immediately hop back in the car and drive to my parents', which was two or three hours away, depending on what year and where we lived at the time. In other years, we'd throw together some kind of simple dinner (simple because neither of us wanted to invest much time in cooking), maybe open a gift or two, and doze off in our chairs by 10:00 so we could get up early and make the drive to Mom and Dad's in the morning.
Then came 1997. Each of our offices closed at noon. We had lunch together, and afterward we did some last-minute shopping. It must have been 3:00 in the afternoon when we got home and put all of our purchases away. Then we looked at each other and said: "What do we do now?" It had been so long since we hadn't had one of those harried, haggard, hurry-up Christmas Eves that we weren't sure how to go about it.
We figured it out, of course. She's managed to stay out of retail since then. I, however, got back into radio a few years later, one thing led to another, and here it is 2014. And as it happens, I'll be on the air on Magic on Christmas Eve from 3 until 6 in the afternoon. That's not a bad thing. Christmas Eve is my favorite day to be on the radio, and I especially like to be on as the sun goes down and nighttime arrives. (The reason is too extensive to get into in this space. To read more about it, go here.) So while you're setting the table for your Christmas Eve dinner, coming or going to a church service, and/or trying to keep the kids from losing their minds with excitement, turn Magic on. It'll be great.