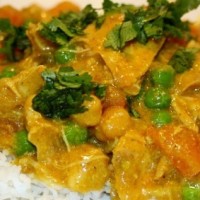 I love hot, spicy food. I always say if it's going to be hot and spicy, it had better hurt a little; otherwise, it's not hot and spicy enough. I should have been in the SNL "Super Fire Hot Wings" sketch. So, I decided to try a recipe I've never tried before. Chicken Curry.
For Christmas I got some spicy curry powder and decided to put it to good use. This recipe is NOT "super fire hot wings" status. It has just the right amount of heat for people like me to enjoy. If you do not like anything making your tongue the least bit warm don't try this recipe. But if you do enjoy that slight "heat" in your food you will absolutely fall in love with this recipe. I modified it to add a freshness factor by adding scallions, a squeeze of lime and a hint of cilantro. And your house will smell AMAZING when you are cooking it. Here it is and enjoy!
CHICKEN CURRY IN A HURRY
4 boneless chicken breasts – cubed
1 large onion – sliced
1 potato – cubed
5..no 6…SIX cloves of garlic – chopped
1 – 13.5 oz can of coconut milk
2 TBLS spicy curry powder (use can use sweet curry powder if you're a wimp)
2 TBLS butter
Olive oil
Salt to taste/pepper to taste
(Ginger's extra "spice it up" ingredients)
1 lime wedge
1 bundle of scallions – chopped (use the whole scallion-root to tip)
1 tiny handful of cilantro – rough chopped
DIRECTIONS:
Cut/chop up your potatoes, onions, garlic and chicken. Set aside

In a large skillet, melt butter under low heat. Once melted, add curry powder and whisk together.

Whisk in the can of coconut milk (yes, it will have the cream on top when you open it-liquid on bottom)

Once butter, curry powder and coconut milk are whisked together, keep under low heat

In a separate large skillet, sauté the garlic and onion in olive oil. Once the onions are translucent, add the chicken cubes. Add a couple of big pinches of salt and some freshly ground pepper. Cook chicken until very lightly cooked then add the cubed potatoes and the coconut milk/curry powder mix. Turn heat to high and let come to low boil. Then turn heat down to medium low, cover and let cook for 30 minutes or until chicken is cooked through.
Serve the mixture over rice and top with a squeeze of lime juice, a generous handful of chopped scallions and a sprinkle of cilantro. Maybe a little soy sauce for another layer of flavor. Perfection!