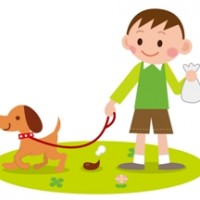 There seems to be an epidemic in my community and it's something that has been bothering me for months. People are not picking up after their dogs. Not only are people not picking up after their dog on someone's lawn, but they are blatantly leaving it right in the middle of the sidewalk for others to step in. Believe me, I have.
And it's not just one part of town. I walk Truman ALL over and I'm seeing it in the million dollar homes neighborhoods as well. The weird thing is this seems to be a fairly new problem. I didn't notice dog poo on the sidewalks every other block five years ago. Now, it seems, it is everywhere I look. Unfortunately, I've only seen the offending evidence and not the offenders.

I understand if your bag fell out of your pocket or your dog had to go twice and you only had one bag, but GO BACK AND PICK IT UP. I just don't understand it. Have we all become that lazy? Is it a sense of entitlement that we've suddenly developed that we're too good to bend over and pick up after our pets? For shame.
I love my community and the pet owners who live in it but let's all collectively realize the beauty of our community and take pride in where we live. Put some extra bags in your pocket next time you go for a walk and do a little stretching exercise and bend over and pick it up. Let's turn this trend around!