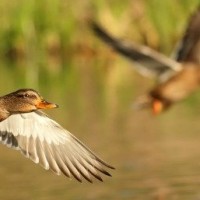 One of the things I appreciate about living in Madison is that we are surrounded by water. And where there is water, there are waterfowl. Since I'm a birder, I've been enjoying some bird-watching on some area lakes and ponds.
March is a good month to get a glimpse of migrating water birds. This month alone, I've spotted snow geese, redhead ducks, ring-necked ducks, and buffleheads on their trek north to their summer homes. They don't stay long, though. One day I saw a large group of redheads enjoying a quiet pond, and the next day they were gone.
I recommend taking time this spring to get out and enjoy some birds we don't normally get to see around here. All you need is a good pair of binoculars and a bird book so you know what you're looking at. Even if you don't see anything but mallards and Canada geese, you are still taking a moment to get some fresh air and enjoy nature.