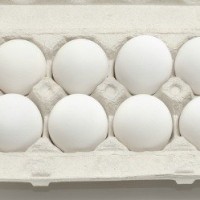 The planting season is about another month or two away, but I like to start plants early indoors. And instead of spending money on peat pots (which can be expensive), I use eggshells.

Eggshell planters are free (once you buy and use the eggs). They are full of calcium and other nutrients and are completely biodegradable, so they're good for the soil. They allow you to save money on plants when you start everything yourself from seed. Plus, it makes a great project for kids. They'll love watching the seedlings sprout and grow from those shells.
Throughout the year, I just crack my eggs open from the top and peel away as little shell as possible. Then I rinse them and save them in a plastic baggie along with a couple of the cardboard egg trays. But you can start right away with a dozen eggs. Crack open from the top and pour the eggs out into a bowl and use them later in a giant omelet. Make sure to rinse out your eggshells and maybe boil them for three minutes to kill any bacteria, then let them dry.
Next, use a tack to poke a small hole in the bottom of the shell for drainage. Then just grab some good potting soil and a spoon and fill halfway. Plant your seeds according to the directions on the package and spoon more dirt on top. Place your new eggshell planters inside the cardboard tray the eggs came in, give them each a little water, then set the tray on a towel in front of a nice sunny window. In just a couple of weeks you'll start to see sprouts.
By the time late May or early June arrives, your plants will be just the right size to put in the ground. Very gently crush the egg shell so the roots are exposed. No need to peel away the eggshell. Just plant the whole thing.
Saving money is good. A whole packet seeds will cost you $2.00 that could possibly yield 12 strong plants, whereas buying just ONE plant at the store might cost you $2.00. You'll get a good return on investment in money . . . and happiness.