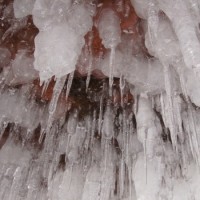 The weather forecast for the Packers/Bears game on Sunday says that the high temperature might be one below. That would  make it one of the coldest Packer games in history, up there with the famous Ice Bowl in 1967, when the game-time temperature in Green Bay was 13 below, or the game in 1993 that was the second-coldest ever at the time, and also the day Leroy Butler invented the Lambeau Leap.
I will be happy to watch the Packer game Sunday from the relative warmth of my couch. I am not afraid to sit out in the weather, though. Usually, at least one Badger football game every year is played on a day when the temperature doesn't get out of the 20s, and I remember sitting in the old Milwaukee County Stadium sometime back in the 80s watching the Packers when it was something like 20 degrees. (The good thing about it was if you bought a beer, it wasn't going to get warm before you finished it.)
The worst weather game I can remember sitting through was a Badger football game  in 2003. It started raining on Friday afternoon and it rained straight down for what seemed like three days, and may have been. On Saturday, we sat in the stadium wearing rain gear and staying halfway comfortable—even though it didn't take long before water was dripping off the bill of my hat. Sometime in the fourth quarter, I noticed that my rain poncho had a hood on it, and I decided to put it up for a little extra protection—not realizing that it had filled up with water, which I dumped over my head and into my clothes when I raised the hood. I was now soaked both outside and in.
I don't think we stayed very long at the game after that.