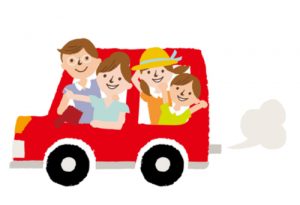 I just spent about 40 hours in the van with my kids. And I loved it! OK, not every single second … but for the most part, it was a blast. We watched movies, played games, worked on mazes and dot-to-dots, and snacked our way through Wisconsin, Illinois, Indiana, Iowa, Pennsylvania, New York, Massachusetts, and New Jersey.
Boston was our first destination, for my niece Evelyn's first birthday. It was amazing to be able to be there and give her and her three-0year-old brother, Nate, auntie kisses whenever I wanted to. Everett and Roman rode their first subway, and we walked to see the statues of the ducklings from the book Make Way for Ducklings. I love so many people in Boston, and I left a little bit of my heart there when we pulled out of the driveway and drove away.
Our next stop was New Jersey, to spend some time with my husband's side of the family. The boys hadn't met their great-grandma or any of the family there.  The cousins … well, you'd never know the kids had just met each other. The smiles and laughs were contagious, and I just sat back and enjoyed being there. We found an incredible park, got to see cousin Casey's soccer practice, ate amazing homemade lasagna, and enjoyed a Yankees win. (I'm still a Brewers fan … it was just cool to be in a city when their team win a big series like that.)
When I think of all the elaborate, crazy-expensive trips we could've taken, they all pale in comparison to the forever memories that now live in my heart. What a week it was!