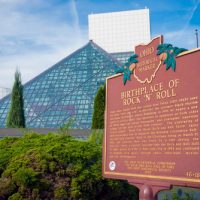 Ann and I don't usually take long vacations. We started 2018, however, with a nine-day trip, the longest one we've been on together in something like eight years. Our first stop was to visit Ann's sister and her family, who live in the Virginia suburbs of Washington, DC. We decided to drive it this time, as we've done before. This is risky in the winter for obvious reasons, but since we've also been snowed in there when flying, we figured it was worth the gamble. It takes about 16 hours, which is one long day and one short morning in the car.
The Washington metro area has the most complicated system of highways I've ever seen. It's a mix of tollways and free highways; it helps that we have an electronic toll transponder from Illinois, which means we don't have to stop and throw coins in a bucket—tolls are deducted from our account, which automatically replenishes from a credit card when needed. Near my sister-in-law's suburb, there's a highway that costs $2.50 to get on, and there's no other good way to get where we need to go. We're on it for only one exit, but we had to cough up the $2.50 every time. I bet we dropped close to $20 on that exit alone during the four days we were there. It's quite a scam, really. Not only that, the traffic is hellacious. It's like everybody in Virginia has their own car, and nobody rides with anybody else. But we made it to my sister-in-law's, and we spent a lot of time with our three nephews and one niece.
When everybody went back to work and school on January 2, we became tourists. There's an affiliate of the Smithsonian's Air and Space Museum in a nearby suburb, and it's fabulous. On another day, we visited the Manassas National Battlefield Park, the site of two key battles of the Civil War. I am a history geek and battlefield tramper from way back, but there wasn't much tramping on this day, given that it was about 10 degrees above zero. On the way home, we stopped off in Cleveland for a day at the Rock and Roll Hall of Fame. It was a bucket-list destination for me, and if you like music, it should be one for you, too. The collection of artifacts is remarkable, from the piano John Lennon and Paul McCartney used to write many of their famous early songs to the dress Stevie Nicks wore on the cover of Fleetwood Mac's Rumours. There's a lot to see.
By the time we got home last Sunday, we were ready to be back. The cats were ready to have us back. And I'm ready to be back to work, too.