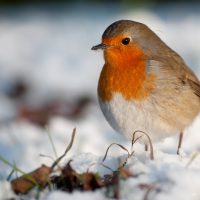 We've established that I'm the type of person who loves dogs so much that I usually say "hi" to them before their human companions. I'm also the type of person who will spend more free time than she has tending to a broken butterfly while on a nature walk. I talk to birds perched overhead on wires and light poles as I walk to my car in the back of the parking lot. I've cried over road kill, and I've had funerals for pets of mine. I could spend all day looking into the eyes of a cow or horse (or my own Chester Dog) to try and see into their soul and thoughts. I believe that taking the time to appreciate animals will make us more patient people. So, when I noticed this week that there are fewer and fewer "peeps" from my feathered friends in the morning and throughout the day, I got concerned.
I've learned that most wild birds and migrating birds, like the robins that are just coming back to the Midwest, can normally deal with the cold temperatures. But this isn't a normal spring! This extended cold and deep snow has complicated things for them. There are a few things you can do to help. According to the Dane County Humane Society Wildlife Center, if you keep your bird feeders clean and full, that will appeal to birds like robins who don't normally frequent seed feeders, but are having a hard time finding insects. Craisins, raisins, dried cherries, crumbled suet, fresh or frozen berries, chopped apples, high-quality soaked dog kibble, earthworms, waxworms, and dried or live mealworms are all food items that these birds may take advantage of . (Please note that raisins are toxic to dogs, so be sure that your dog doesn't have access to these feeders, or choose other alternatives if your dog has access to the same space in your yard.)  Because of the cold, there's also been an increase in calls to the Dane County 911 Center over struggling birds that people have found, especially after the snowfall in the last week. If you come across a bird in distress and that's able to be picked up, placing it in a cardboard box with a towel and a heating pad on low will help while you contact the Wildlife Center. For more info on how to help, click here.
We hope that the snow we saw on Wednesday will be the last of it for months, and the birds will be chirping again in no time. Until then, like Ellen DeGeneres says, "Be kind to one another." I'd add: be kind even if that "another" is a bird.
Reach out to me anytime on Facebook or email me at Jillene@Magic98.com. Find me on Facebook here.