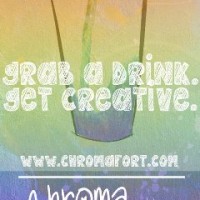 Coming up on Saturday, May 3, I'm going to be teaching a 3-hour workshop that shares my secret technique for painting my leaves at the Chroma Art Bar in Fort Atkinson. The class is open to six people – with additional classes to be added if there is enough interest.

The Chroma Art Bar is exactly that – a place to create art and, if you want, drink beer. No kidding! It's all the rage now. The space, a former church, is huge. I'm hope to teaching all kinds of classes in the future: how to make my special lingonberry scones and shortbread; groovy recycled art with CD Jewel cases; art classes for
children and young adults (no beer for them) who want to paint and understand abstract art.
An added bonus is that the Fort Atkinson Square Farmers' Market runs from 8am til noon on Saturdays.