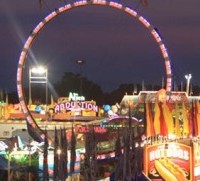 On Memorial Day weekend, Bratfest kicks off the festival season. If you keep your eyes open, you'll see lots of radio stations broadcasting from these summertime events (even Magic 98). Over the years, I have been to a few.

In small-town Iowa more than 20 years ago, the annual summer festival was supposed to have something to do with the city's heritage as an old Mississippi River town, although we suspected it existed mostly to create customers for the Kiwanis club beer tent. It was held in Riverview Park, a place from which the Mississippi could not actually be seen. I would do my radio show from an RV on the festival grounds all week, and part of the job involved introducing concerts. I got to hang out backstage with Paul Kantner and Jack Casady from Jefferson Starship, two actual survivors of San Francisco in the Summer of Love, and I once watched Kevin Cronin of REO Speedwagon go off on a roadie who brought him the wrong brand of bottled water, although it occurs to me now he may have been joking.

My wife and I once got invited to be celebrity judges at Taste of Something-or-Other. (It, too, was in Iowa many years ago, and can't remember what the festival was actually called.) The judging process wasn't exactly systematic – they gave us a handful of food tickets and told us to go and eat, which we were happy to do since we were newly married and broke. I don't remember which establishment won. I know the celebrity judges definitely did.

A more recent experience came a few years ago at Taste of Madison, when I worked for a different radio station, and discovered that the most dangerous place on Earth is onstage with six DJs and only one microphone that they have to share. It would have been easy to break up the melee, though – just wave a few free food tickets.

Have fun around Madison this summer, and come up to say hello to radio DJs whenever you see us. We like that.