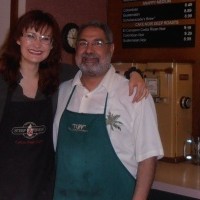 These are two of my friends who "reside' at the Steep & Brew coffee shop on Odana Road. Flora, who is also an artist,

paints murals and scene sets. Saad (right) is the big

Kahuna who runs the place. It's a rather small space – which is

what makes it a fun place to hang out.

Often there will be an open

conversation in which you can insert your two cents if you choose.

It wasn't until

after

I learned the original Steep & Brew started

in a living room, with volunteers to serve coffee drinks, that

I realized how much nicer it is to have a few of my paintings hanging

on their walls. Two of the paitning are part of my "Cowboy Colors" series – and the

third is a play on words, made just for coffee shop people.

It's called "Coffee Beens w Raspberry" – inspired by the collection of

coffees I have enjoyed there in the past.

You never know

who you will meet up with there.