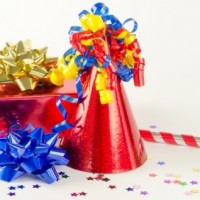 Consider the office Christmas party. Your employer forks out for dinner and drinks at a nice restaurant, and you can let your hair down for a while with your fellow compadres. Sounds like a good thing—so how come so many parties are so awful?
Maybe 25 years ago, the owner of the radio station I worked for scheduled our Christmas party for a mom-and-pop restaurant willing to trade the cost of the dinner for advertising on our station. Imagine having the party at Denny's, only with a limited menu, and you're getting close to the vibe. The message to the staff was pretty clear—this is all you're worth to me. And maybe it dawned on him that he'd skimped, because the next year, the party was scheduled for the most exclusive restaurant in the city. As the waitstaff brought the menus that night, the thought flashed from table to table instantaneously—let's stick it to him. And so everyone ordered appetizers and bottles of wine, expensive entrees and desserts. Ann and I racked up the most expensive dinner we've ever had, one that probably still holds the record after all these years.
Even though I loved many of the people I worked with, the company Christmas parties at my post-radio jobs were almost always dreadful. Dinner and drinks were fine. Even the little speech by the company president was OK. But when the party was planned by a committee, there always had to be an entertainment program of some kind—and I am convinced that there's never in history been an office-party entertainment program that's actually entertaining. Memo to party planners everywhere: don't waste money hiring a hypnotist or some similar thing—just reopen the bar and let people hang out together.
At my last corporate job, over a decade ago, I resolved to skip the holiday parties–but I soon found the company did not approve of party-skipping. The HR manager actually visited the cubicles of those of us who had declined the invitation to find out why. (Sometimes I had a good reason, and sometimes I lied.) There's no such pressure here at Mid-West Family Broadcasting, because we don't do the formal, after-hours, at-a-restaurant holiday party anymore. We do a during-the-workday potluck, which is a thousand times better, even accounting for the fact that there's no bar.
If you have a really good (or really crazy) office party story, I'd love to hear it. E-mail it to jim.bartlett@magic98.com.