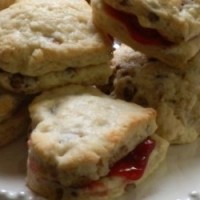 I do so love to bake, and it's always a part of the fun to have
on good 'mood' music. Rick Kuethe (pronounced Keeth-ee)
has a fantastic CD titled Nebraska Suite. I play it front to back
as many times as it takes to finish whatever I happen to be baking.
Recently I invented a new flavor scone – sour cream, cherry, pecan
(pictured above) and decided to name them Kuethe Scones. Last weekend
on Magic Sunday Morning,
I played his song
Passages and mentioned I was thinking about naming them Kuethe Scones.
He confessed
he has never had a scone named after him before and was flattered.
Now it's official!