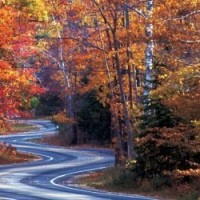 I love Door County. I visited it for the first time over 20 years ago and I still remember that feeling of crossing over into the peninsula and instantly noticing that the sky looked different, the landscape looked different and it seemed calm and inviting and almost like I was home. Maybe it's because I grew up on Lake Michigan, on the other side, where the sun sets. Maybe it's because I'm a romantic and I love to hear the history and the maritime stories of the ships at peril on this lake. I always wonder what was going through the minds of those men who knew they were going down with their ship. I love visiting the lighthouses of Door County. There are 11. Some are open for visitors, some are not. All are beautiful. If you plan a trip there, you should plan to visit a least one lighthouse during your stay. The Cana Island lighthouse is a romantic out of the way find. The Eagle Bluff lighthouse has a fabulous guided tour with wonderful stories.
I always try to visit someplace I've never been on each trip. This time it was Potawatomi State Park. It's in Sturgeon Bay and you can't miss seeing signs for it on your way into the Door. I've always passed it by anxious to get to my other favorites, Newport and Whitefish Dunes. But since I've hiked Newport and Whitefish and Peninsula state parks dozens of times, I decided to spend a day at Potawatomi. What a gem. Truman and I packed our backpacks and set out early Tuesday morning to explore this place. I think we were the first to arrive and we saw maybe five people the entire time we were there. Quiet, peaceful, beautiful views and a fire tower you can climb, just like at Peninsula State Park, only you don't have to wait for anyone coming up and down. You basically can have the entire 1,200 acres all to yourself to explore with spectacular views of the water, limestone cliffs, upland terrain and forests. The Ice Age Trail also originates from this park with an ethereal staircase taking you up into the forest at the start of it. It's magical.
Of course, I have a couple of other favorite spots, where every time I visit I think, is this place real? I can't bring myself to tell you where these secrets are. But they are so clear, and peaceful and untouched and quite heavenly. And each time I visit those places I love so much it does seem that I have them all to myself if only for just a moment. I don't know how to describe the feeling of finding a hidden beach with soft beige dunes of sand and the crystal clear, still water of Lake Michigan that invites you to walk in up to your knees no matter how cold it is. There's nothing but quiet and beauty and greatness that can bring tears to your eyes and make you feel so humble and grateful just to be still and connect with the water and the trees and the birds and the sand. Yes, I know, I am a hopeless romantic, sad sap. I always have been. I always will be. And just to know that I have a place so close that can easily stir my soul with beauty and charm and wonder every time I visit gives me peace. This is why I love Door County.