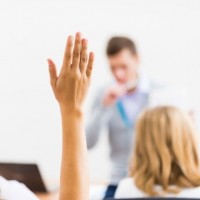 Many years ago, I worked with a woman who had been a high-school teacher in another life. She didn't seem to be the kind of person who would embellish a story or pass off a made-up tale as real, so I am fairly sure the story below actually happened.
In 1998, Sonny Bono died in a skiing accident. He crashed into a tree on a hill in California. It marked the end of a remarkable life. He started as a musician with legendary producer Phil Spector, and then wrote, produced, and performed a string of hits with his wife, Cher. In the 70s, the Sonny and Cher Comedy Hour was one of the most popular shows on TV. After Sonny and Cher split, he frequently appeared in movies and on TV. In 1988, he was elected mayor of Palm Springs, California. After an unsuccessful run for the Republican nomination for a U.S. Senate seat from California in 1992, he was elected to Congress in 1994 and re-elected in 1996. Then came that early 1998 ski vacation, and the accident that ended his life.
Shortly after Bono's death, my teacher friend was discussing his accident with her class. One of her students was incredulous when she learned that Bono had been missing for several hours before being discovered. She asked, "Didn't anyone look behind the boat?"
True story. Believe it, or not.