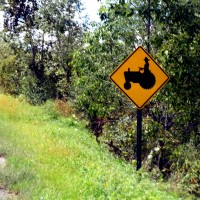 When I first moved here from New Jersey, I used to get such a kick out of the yellow signs, like the one in the picture. They are so friendly! When I told my family about them, they didn't believe me.  (They didn't believe there was a store called Piggly Wiggly either.)
But once I sent them a picture of the "cow crossing" sign, I started something! Now my favorite is the "moose crossing" sign. I'd like to get one to put in my studio.
In Door County, there is a sign by Kangaroo Lake that actually has a kangaroo on it. That may just be for fun though . . . .