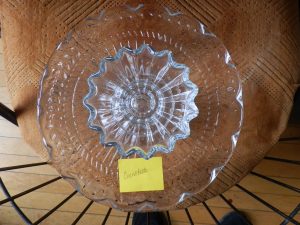 It's that time of year again for the annual celebration event for START, the Stoughton Area Resource Team. It will be held in the Bryant Education Center at Stoughton Hospital on Thursday, June 8 from 5:30 until 8:30. I'm happy to be involved in the event again this year. There's a gourmet dinner, a cool silent auction, and the Fabulous Farm Babe, Pam Jahnke, will be our keynote speaker!
The lovely glass tiers pictured here will be holding fancy-pants cupcakes and tasteful floral arrangements as part of the fundraiser! Thank you to Kay Weeden, who has her whole pool table covered with these beauties in preparation!  We've even arranged to have sturdy boxes to take your treasures home!
Tickets for the event are on sale now. You can call for more info too—608/577-5650.