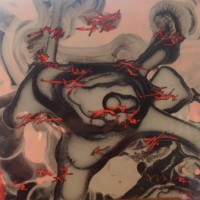 The Annual Habitat for Humanity Fundraiser is back! All are welcome to attend the opening reception April 11 at the Artisan Gallery in Paoli. In case you've never heard of or been to this event, it's art that's all created with recycled materials.

This year I've used recycled reverse-plated chromophotography glass plates (sometimes called un-plates). I've created a double-plated 'fancy' glass 'post it' holder. In indoor light, it has one intensity. A lamp behind it brightens it up even more. In a daylight window (as shown above), it really pops. This modern 'window dressing,' or design screen, is on sale along with about 50 other creations. The money raised goes to Habitat for Humanity. This event is sponsored by The ReStore. The opening artists reception is from 5 -9pm with light snacks and wine – and is open to all.
The ReStore exhibit only takes up one section of this gorgeous gallery, so it's a nice evening out no matter what. I truly hope you will join me there!